Fresh Vanilla Bean Recipes | How to Cook with Fresh Vanilla Beans
Here are some recipes and tips from our vanilla bean farmers and beyond...


Get Your Vanilla Seeds!
Since real vanilla is the second most expensive spice in the world after Saffron, it's useful to know how to correctly get out the seeds before using them.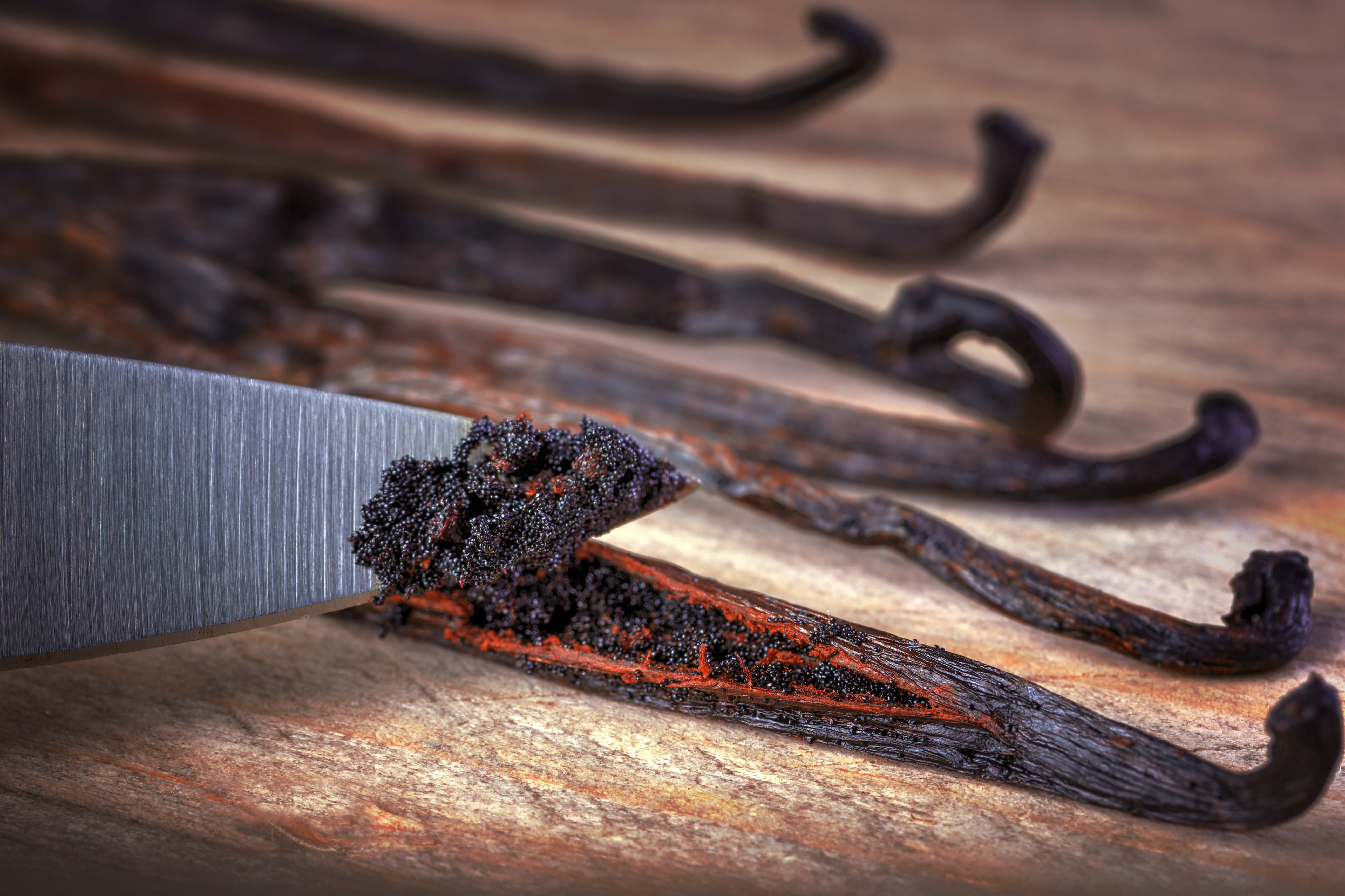 Take one vanilla pod and a small, sharp knife, slice down the center of the pod and gently remove the seeds by running your knife along the edge. If you are only looking to use the seeds, make sure not to drag the knife too firmly as this will remove the woody elements and fibers. If you plan to use the whole bean, for something like vanilla extract or cream, you can cut open the bean pod before you throw it in the liquid to allow the seeds to come out while the liquid also soaks up the flavor of the pod. The empty pods are usually removed after cooking down but can still be used for infusing for a wide array of foods, especially vanilla sugar. It can also be used to make more extract and add fresh vanilla essence to sugar scrubs, perfumes, dried potpourri, or candles. While the seeds are going to have the overwhelming majority of the flavor, the pods are still fragrant, so don't toss 'em!
Vanilla Bean Storage
You can store your intact fresh vanilla beans in an airtight bag or container in the refrigerator for at least 6 months. If you don't want to use a whole pod at one time, simply cut off as much as you need before slicing down the middle, and put the remaining in-tact piece in the airtight bag with the others. As long as they don't dry out or get too warm, they should retain their strong flavor for many months.
---
What you'll need:
Airtight glass bottle or jar
Vanilla beans (5-6 will make 1 cup of extract)
1 cup Alcohol of choice (Vodka is most common)
Vanilla beans labeled "Grade B" are specifically sold for extracting purposes, but extract made with higher Grade A beans also tastes great, if not better. Use either, they won't disappoint.
The alcohols most commonly used for extracting include brandy, bourbon, and rum, but Vodka is usually preferred for the cleanest vanilla flavor. It just depends on your preference.
Directions:
Slice your vanilla beans like suggested above, right down the middle lengthwise, and put them into your container. If they won't fit in your jar or bottle all the way, you can just cut them into pieces. Pour the cup of alcohol into the container completely submerging the beans. If they aren't completely submerged, they may become a bit slimy as it ages.
Let your extract infuse for 8 weeks minimum, out of direct sunlight, and make sure to shake it up once every week to couple weeks. The longer you wait, the stronger your extract will be. Waiting 6+ months will give you some incredibly potent extract. 12+ months is even better, but that might take a lot of patience! Your extract should last years and years, a simple smell test will tell you if it's still good to use.


---
Heavy Cream, 2 cups
Fresh Vanilla Bean, 1 each
Place vanilla bean with cream, then bring cream to a simmer and reduce to 1 cup. Remove vanilla bean and use the cream sauce warm or chill. The chilled sauce can be used as a cold spread or brought up to temperature slowly so it does not break. Even for seafood recipes, this is surprisingly a great sauce to keep around. It will last in your refrigerator for two weeks, chilled. Enjoy!
---
1 ½ cups whipping cream
1 (14 ounce) can sweetened condensed milk
1 tablespoon vanilla extract
Beat cream in a chilled glass or metal bowl with an electric mixer until stiff peaks form.
Mix condensed milk and vanilla extract together in a bowl. Fold in whipped cream with a spatula until just combined. Pour into a freezer-safe container. Freeze until completely frozen, 5 to 8 hours.
---
Vanilla Bean Yogurt
Consuming yogurt on a regular basis, especially if it contains active probiotics, may strengthen your immune system and reduce your likelihood of contracting an illness. Vanilla beans are rich in antioxidants and can help preserve your immune system, protect cells from damage and free radicals.
Ingredients:
1 Cup of Organic Whole Milk
1 Tablespoon Granulated Sugar
1 Whole Vanilla Bean
1 Cup of Yogurt Starter Packet
Slice down the length of one side of the skin of the vanilla pod to open and scrape out the seeds. Bring the milk to a boil. Remove the pot from heat and add the sugar and vanilla seeds. Let the milk cool until warm. Stir in the yogurt starter, mixing well. Pour yogurt into an individual jar. Set the jars in a warm spot on your counter overnight for about 7 hours, covered but with the top slightly ajar to let the yogurt "gases" escape. After the yogurt has set, place it in the refrigerator for at least 4 hours before eating. Keep the vanilla pod after scraping, you can store it in a sugar jar for vanilla sugar.
---
Summertime Watermelon Vanilla Smoothie
Watermelon is a hydrating and immune-boosting fruit, high in vitamins A, C, and potassium. Coconut milk contains many beneficial compounds, such as lauric acid, antimicrobial lipids, and capric acid, which have antibacterial, anti-fungal, and antiviral properties. These two ingredients, along with all the benefits of fresh vanilla, are sure to leave your taste buds happy and you feeling ready to take on summer activities.
Ingredients:
½ cup of Coconut Milk
5 slices of Watermelon
1 pod of fresh Vanilla Bean seeds or ¼ tsp of Vanilla Bean Powder
Place all ingredients in a high-speed blender. Blend until smooth, adding more liquid until desired consistency is reached. Serve immediately and enjoy! Looking to give it an extra kick? Add a splash of white rum, gin or vodka. Garnish with a watermelon slice and sprig of mint.
---
You can also easily incorporate leftover vanilla seeds into your tea bag / infuser as it brews!
It's a very easy way to get the health benefits of fresh vanilla without having to do much at all and another great way to utilize the leftovers after using your beans for other recipes.
---
Here are a few more links to some incredible fresh Vanilla bean dishes we've found:
https://www.greatbritishchefs.com/ingredients/vanilla-recipes
https://www.greatbritishchefs.com/recipes/passion-fruit-vanilla-cheesecake-recipe
---
To learn more about vanilla harvesting and health facts read our Vanilla Bean Facts blog.
To purchase some top-quality imported vanilla beans click here.